Welcome to the Gruendach-Centre Neubrandenburg
-Longtime research at the University of Applied Sciences
Prof. Dr. Manfred Koehler and his team:
(teaching courses (selection): landscape ecology, Vegetation sciences, ornamental plants).
Specialized in Green roof technology,
– Green facades/Living walls
– Indoor greening
– and related technologies.
What can we do for you? What is your special interest?
-News about the greening building technology? Overview of the benefits of Green infrastructure? Have a look to the list of references.
-You need a cooperation / personal presentation / consultation, please contact via  koehler at hs-nb.de
-International cooperation – great! Make a contact via  email Koehler at hs-nb.de and let me know details.
Manfred Koehlers membership: visit for more details:
–BDLA
–BUGG, (working groups and contact person to EFB and WGIN).
–EFB (European Federation of Green Roof Association)
–FLL (several guideline working groups)
–WGIN (President, since 2007)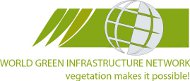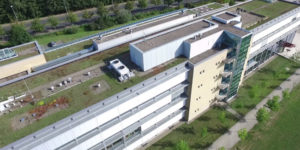 Corona Information:
World Green infrastructure congress 2020 Berlin planned for 15th to 18th of June in Berlin is postponed
to 2021: September 28th to 30th.

2020: WGIN Annual General Meeting will be held as Skype talk on 14th of June 2020. Members are invited to join this call.
Some impressions from last years Geen roof in Neubrandenburg. This breeding duck returned now in the fourth year!
WGIN Book number 1: Green roofs around the world, presented in Madrid on April 3rd 2014, 2nd ed. 2015:
This book presents the description of the development from a small tropical harbor City into a "City in a garden". Vegetation makes it possible – Singapore becomes a role model for the increasing tropical Cities around the globe! The author Phua Yok Tan has many years own experiences in developing the guidelines, programs and researches.
Detail from current green roof research in Neubrandenburg:

Infrared measurements in tropical nights: Example: 3rd of August 2013, 4 am morning: In the front a detail of the green roof. Back ground: heat island of campus buildings.

Release October 2012: Rudolf Müller Verlag: Details

20 years after "Dach- und Fassadenbegrünung" now this publication presents the " state of the art in Greening building technologies", edited by Manfred Köhler (available October – 2012), (co-authors are: Wolfgang Ansel, Roland Appl, Florian Betzler, Gunter Mann, Marc Ottele, Sven Wünschmann – and with several case studies, delivered by Arthur Andrade, Thorwald Brandwein, Barbara Koenig, Lutz Peter Kremkau, Rolf Maas, Nils van Steenis, Dorthe Rømø); several technical details included.

– 2012. DIN A4. Gebunden. 250 Seiten mit 355 Abbildungen und 49 Tabellen.

– ISBN Buch: 978-3-481-02968-5.

– ISBN E-Book-PDF: 978-3-481-02969-2.